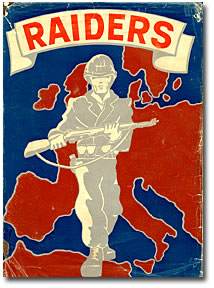 Front book cover of The History of the 47th Infantry Regiment

he following is a list of six books related to the 47th Infantry Regiment and the 9th Infantry Division. These books reportedly are no longer in print, but your local library may be able to locate a copy to be checked out through an interlibrary loan.

For veterans or family members who would like more information on the 9th Infantry Division, the Ninth Infantry Division Association publishes a newsletter, THE OCTOFOIL, about five times yearly. For more information, write to the Ninth Infantry Division Association at 412 Gregory Avenue, Weehawken, New Jersey 07087.

• The History of the 47th Infantry Regiment was published in 1946 by the 47th. Numerous maps, newspaper articles, drawings, photographs, copies of Battle Honors, and lists of Decorations, Awards, and fallen comrades fill approximately 150 pages. The original book cover depicts a GI walking in front of a map of Europe with "RAIDERS" inscribed on a scroll at the top. The two images located to the right are pictures of the front and back of this priceless book's cover.

• Eight Stars to Victory: A History of the Veteran Ninth U.S. Infantry Division was published in 1948 by 9th Infantry Division Historian Joseph B. Mittelman. This is the most complete history of the 9th Infantry Division and its three regiments -- the 39th Falcons, 47th Raiders, and 60th Go-Devils. Approximately 406 pages contain extremely detailed maps, Battle Honors, and wonderful photography. In my opinion, this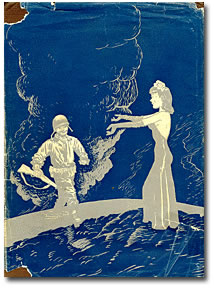 Back book cover of The History of the 47th Infantry Regiment
is the best book available on the Ninth. Much of the literature contains day-by-day accounts of where the division was from basic training at Fort Bragg, North Carolina, to the North African and Sicilian campaigns and the remainder of the war in Europe.

• Hold Fast! Historical Bits of Pathos, Lore, Heroism and Satire About the Veteran Ninth Infantry Division was published by the the 9th Infantry Division Historian's Office and printed by F. Bruckmann KG, both reportedly located in Munich, Germany, around 1944. This 50-page book was compiled and edited by 1st Lt. Joseph B. Mittelman, 9th Infantry Division Historian. It contains many photographs, a story by Ernie Pyle, and several tales of the division's three regiments.

• The Final Thrust: The Ninth Infantry Division in Germany, September 1944 to May 1945, A History reportedly was published around 1945 by the 9th Infantry Division and printed by F. Bruckmann KG, Munich, Germany. Seventy-three pages denote the 9th Infantry Division's victories at the Siegfried Line, the Battle of the Bulge, the Ludendorff Bridge at Remagen, Germany, and many others. The original version of this book reportedly includes a foldout map.

• Hitler's Nemesis: 9th Infantry Division was published by the Army around 1944 and printed by Desfossés-Néogravure in Paris, France. This pamphlet is 33 pages long and contains a few photographs and stories about the 9th. A copy of the "The 9th Division March" song is located at the end of the pamphlet. This was one in a series of stories about armed forces in the European Theater of Operations issued by the Stars and Stripes.

• 9th Infantry Division 1918-1968
was published by the Army around 1968. This 44-page brochure contains several pictures and histories of the Ninth during World War II and the Vietnam War. It contains more information on the division's accomplishments during the Vietnam War, including strong emphasis on the Mekong Delta, but there is some information on World War II.
---